Napbots is bringing automated trading to the table, simplifying the whole trading process.
In the constantly developing world of crypto, automated trading first emerged as another trend. Many people were, however, skeptical despite the promises made by this new sector, and they had every reason to be.
The crypto industry is rife with trends. Many would argue that this is a fantastic sign of ongoing progress. While others think that fleeting trends hurt the ecosystem more than they help.
Fortunately, automatic trading has demonstrated through time that it does indeed have enough value to go beyond being just another hype in a long line of many. This innovation is enduring, as shown by its continued appeal.
Let us look at Napbots, an automated trading system designed to provide the best trading strategies for everyone who is new to trading.
Napbots in a nutshell
Started in 2018, Napbots was born out of a vision to provide expert trading strategies to traders who are new to the field. Coinshares, the largest digital asset investment firm in Europe (managing billions of dollars) acquired Napbots in 2021.
What started out as a vision to provide traders with transparency and access to easy trading strategies has brought Napbots to where they are at present.
There are hundreds of automated bots out there promising the best strategies and returns. But not all claims can be trusted. Napbots users receive the most sophisticated trading strategies designed by expert traders, simplifying the whole process.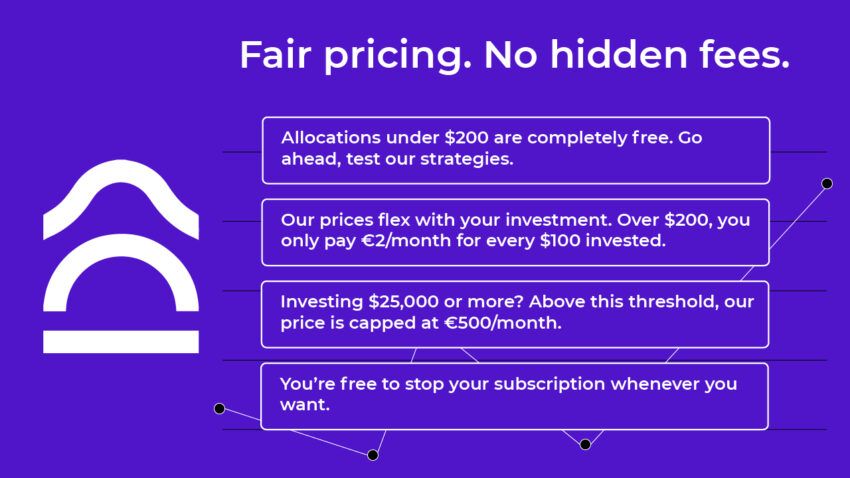 How does Napbots work?
Getting into trading and mastering it is not an easy process. It is indeed a lengthy process to be dealt with. That is where Napbots comes to the rescue. Napbots lays down on the table proven crypto trading strategies, curated and made by the experts of Coinshares.
The entire process is simplified so that traders needn't spend hours learning different strategies. Napbots provide simple-to-use algorithmic strategies. All you need to do is follow three simple steps.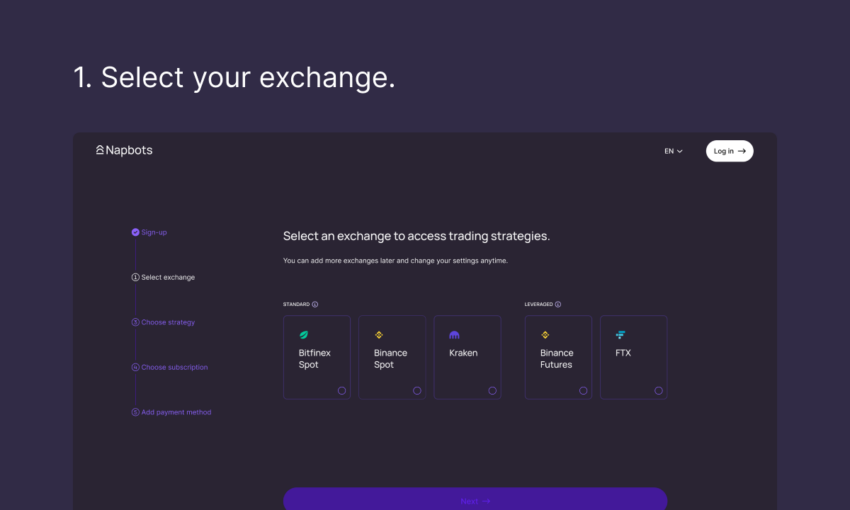 Connect your preferred exchange: The primary step is to connect your preferred crypto exchange to begin the process. Your funds are fully safe and Napbots will have no access to them. Currently, it supports exchanges including Kraken, Binance, FTX, Bitfinex, OKex, and further exchanges will be added later.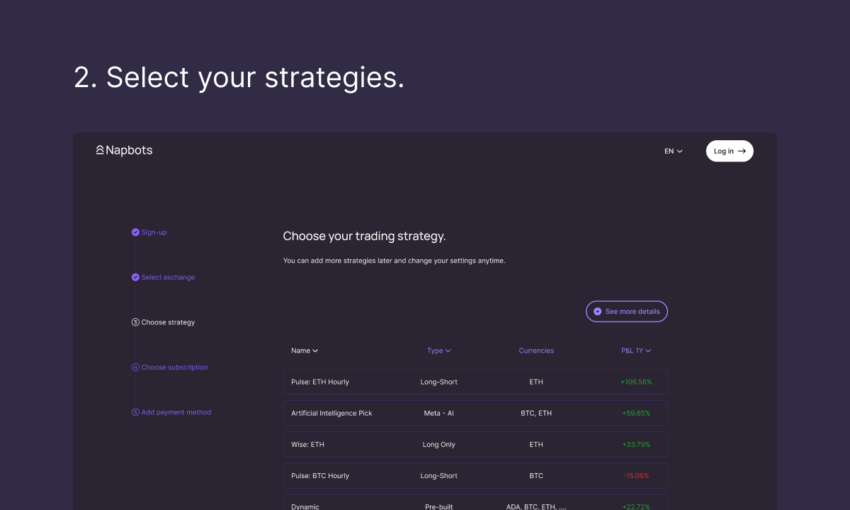 Select your strategies: Once you are done with the primary step, choose the strategy that you would like to go with. There are dozens of them, and users can go with the one they prefer.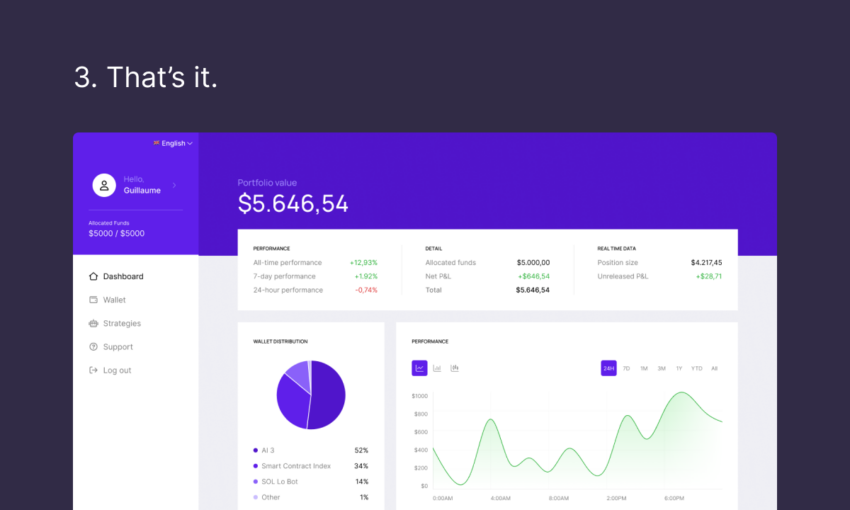 Activate the strategies: Finally, you can go ahead and activate your bot, sit back, and watch the bot do its magic. Throughout the process, you can adjust your investment and strategy as well.
Key features of Napbots
Napbots are more than just simple bots. Unlike normal bots that are designed to do a specific task, Napbots are highly programmed bots curated to do complex operations.
Expertise: Napbots is created by a team of professionals and experts to ensure that the best strategies are given to users. Unlike newbie traders providing temporary strategies, Napbots have years of proven experience and trust gained through years of expertise.Simple and straightforward: Unlike platforms that have a complex user interface and are hard to navigate, Napbots is built differently. The team has ensured to keep the platform easy to use for newbies and make the entire process easy from the first to the last.Transparency: The entire process is transparent, and users can track everything from their dashboard. The entire process is sped up with each and every strategy explained clearly to the traders.Various strategies: The platform provides various strategies, including smart hold strategies (Wise), more dynamic strategies (Pulse), and Artificial Intelligence strategies (AI). The team is planning to add dynamics indexes to the platform soon.Dedicated learn section: To ensure that everyone stays educated on very basic fundamentals, the platform has a dedicated "Learn" section. The section will give in-depth knowledge of different strategies and Napbots.
What's new? Napbots V2
Napbots has been providing traders with effective strategies since 2018. After the acquisition by CoinShares in 2021, the napbots have undergone a major upgrade. The new version that was deployed in July 2022 has a bunch of new features for traders.
The new V2 will provide better trading opportunities, more transparency, more flexibility, and a sleeker and simpler design.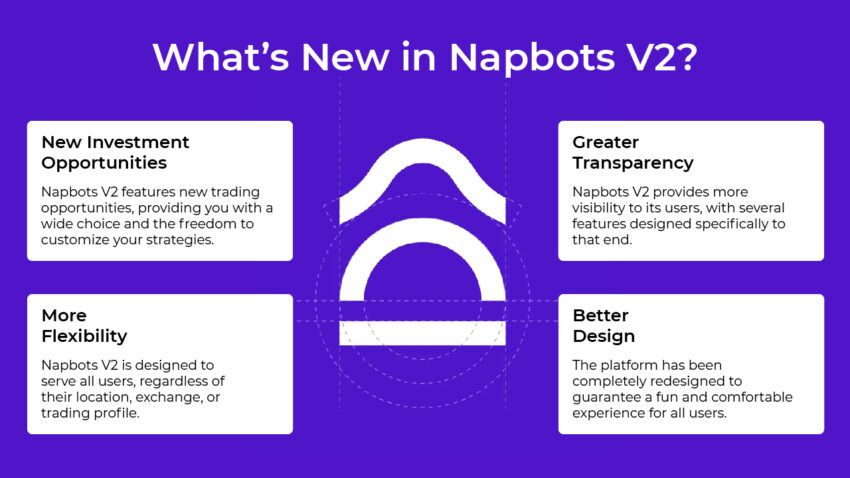 Better trading opportunities
Apart from the old trading opportunities, the new V2 bots will deliver well-researched strategies and more trading opportunities. It will provide traders with various strategies to choose from and also give them the ability to set the maximum amount of funds to be dedicated to each type of account.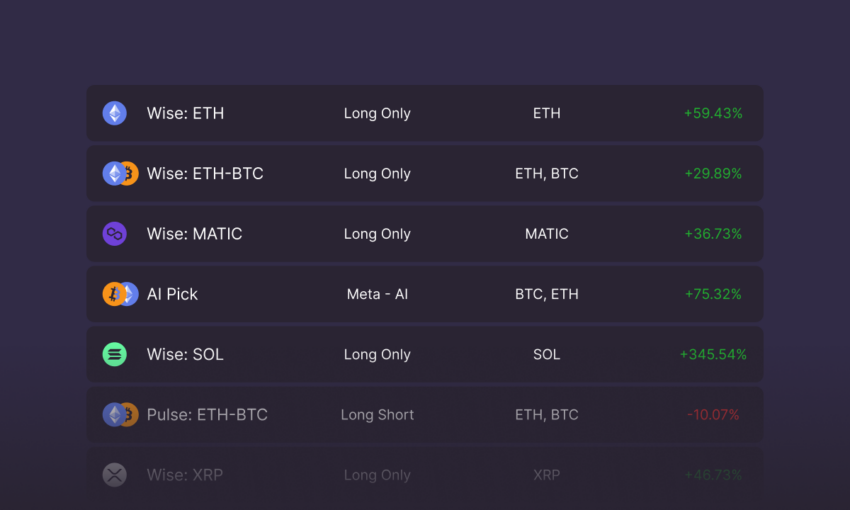 Dynamic indexes are coming soon
Dynamic index grouping is another feature that is coming soon. It will automatically proportionate the assets by purchasing the best performing cryptos and selling the worst performers. The index is being developed with the vision of providing more strategies to its users.
Improved flexibility
Napbots is trying to provide an easy-to-access flexible platform to all users regardless of where they are from. The platform is quick to respond and users can seamlessly move between different sections of the platform.
It is the only bot trading platform that charges users fees on the terms of the user allocations. There are no hidden charges or fees; everything is transparent. For every $100 invested, there is only a charge of €2.00. Allocations below the amount of $200 are free. Also, for allocations that go beyond $25,000, the fees are capped at €500.
Simpler and cleaner design
The entire platform is designed on the basis of simplicity so that users get to go through a comfortable and easy experience. The simpler designs will make the users feel lost among the crowd.
The V2 bots are better in terms of simplicity, transparency, and fairness. There is also a better pricing system as compared to the old model.
Final thoughts
With curated strategies and an improved upgrade to the bots, Napbots is trying to simplify the whole trading process. There are hundreds of bots claiming to provide the best trading strategy from experienced traders. Most of them are not for beginners and are only for short-term success.
And most of the so-called experienced traders are giving away short-term strategies that are effective only on a temporary basis. What sets Napbots apart is the experienced and proven team that is building the bots. The strategies on the platform have proven to be long-term successful and that differentiates the professionals apart from the to-be experts.
If you are someone who doesn't have enough time to spend studying crypto and wants to trade, Napbots is the platform that you should check out. With its long-term effective strategies and established trust, Napbots is envisioned to provide the best and most successful trading experience.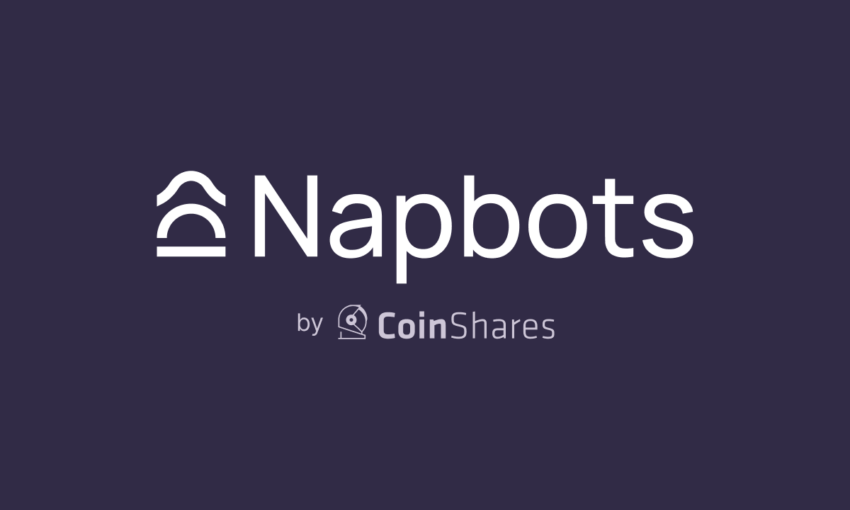 Follow Napbots on social media for news and regular updates:
Twitter | Website | Instagram | Facebook
Keep in mind, that crypto is volatile and capital is always at risk.
Disclaimer
All the information contained on our website is published in good faith and for general information purposes only. Any action the reader takes upon the information found on our website is strictly at their own risk.


Originally Published Here -Source link