Traditional economic theory dictates that in order to tame inflation, one must decrease the availability of money in circulation. This is usually done by hiking interest rates, raising taxes or a combination of both. Similarly to most of the Western world, the UK has been struggling with high inflation for over a year. The Bank of England even started raising interest rates in response.
So, when Britain's new Chancellor Kwasi Kwarteng announced his plan to cut taxes, especially on the wealthy, who don't need that much support during a crisis, financial markets didn't like the news. The plunged to it lowest level in history against the and the . In fact, the pound went closer to parity with the latter than with the former. On September 26th, dropped to 1.0173.
The havoc Kwarteng's ill-thought-out proposal wreaked on the markets forced him to make a quick U-turn. Just ten days after it was announced, the 45p tax rate cut was abandoned. Traders took a deep sigh of relief and started buying back the pound. As of this writing, GBPCHF is hovering around 1.1250, up 10.6% in less than three weeks. That's a return even stock market investors wouldn't decline in a normal year, not to mention in 2022.
Elliott Wave Points To 500-Pip Drop In GBP/CHF
On the other hand, the strategy of buying what's been going up and selling what's been going down is known to often backfire. So the question is, should we expect the recent recovery to continue and join the bulls right away? A quick look at the Elliott Wave chart below suggests the opposite.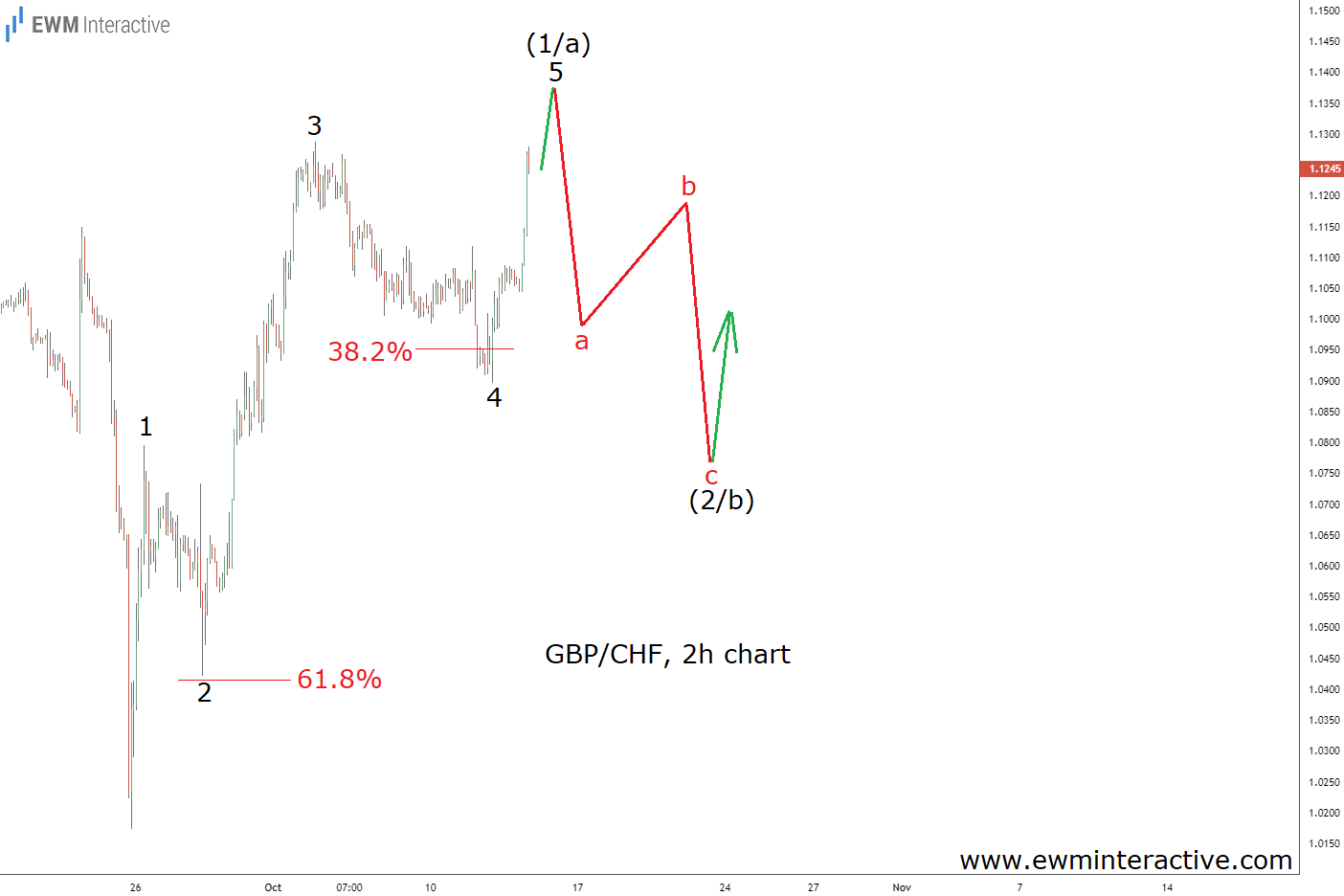 The 2-hour chart of GBP/CHF reveals that the rally from 1.0173 is an almost complete five-wave impulse. The pattern is labeled 1-2-3-4-5, whose waves 2 and 4 terminated in the 61.8% and 38.2% Fibonacci support areas, respectively. It looks like it is just a matter of time for wave 5 to exceed the top of wave 3 and complete the shape.
Unfortunately for the bulls, the theory states that a three-wave correction follows every impulse before the trend can resume. So instead of joining the rally, we should prepare for a notable decline to roughly 1.0800 in wave (2/b). It is around this level that a complete 5-3 wave cycle would set the stage for another GBPCHF surge in wave (3/c). We remain on the sidelines until then.
Original Post


Originally Published Here -Source link