The euro has posted sharp losses today and has fallen below the 0.9900 line. In the North American session, is trading at 0.9875, down 0.96% on the day.
Ukraine's recent offensive has pushed Russian forces back and appears to have rattled the Kremlin. President Vladimir Putin has responded to the latest military setback by announcing blitz referendums in Russian-occupied territories and ordered that mobilization of 300,000 troops. An annexation of these territories would seriously escalate the conflict in Ukraine, as Russia could make the false pretext that these territories are an integral part of Russia. Putin hinted that Russia could use nuclear weapons in the war, which drew sharp condemnations from European leaders.
These latest developments have soured risk sentiment and pushed the euro sharply lower. European gas prices jumped higher, and with Nordstream 1 out of action for the past several weeks, the energy crisis in Europe could worsen. With the Federal Reserve poised to raise rates later today, the euro could lose even more ground.
Federal Reserve Expected To Deliver 0.75% Increase
The Federal Reserve is expected to raise rates by 0.75% for a third straight month. This would bring the benchmark rate to 3.25%. Such a move would have added significance as it would raise the benchmark rate into restrictive territory, above the neutral rate level of 2.5%. This would require the Fed to take extra care as it continues to raise rates. The markets have priced in a 0.75% increase, but there is a 15% chance of a massive full-point hike, which underscores that the markets have internalized that the Fed remains very hawkish and is likely to remain so, with inflation showing surprising resilience. Aside from the rate decision, the Fed will also release its latest economic projections, and we could see some volatility on the currency markets in response to the meeting.
EUR/USD Technical
EUR/USD is testing support at 0.9907. Next, there is support at 0.9800
There is resistance at 1.0053 and 1.0160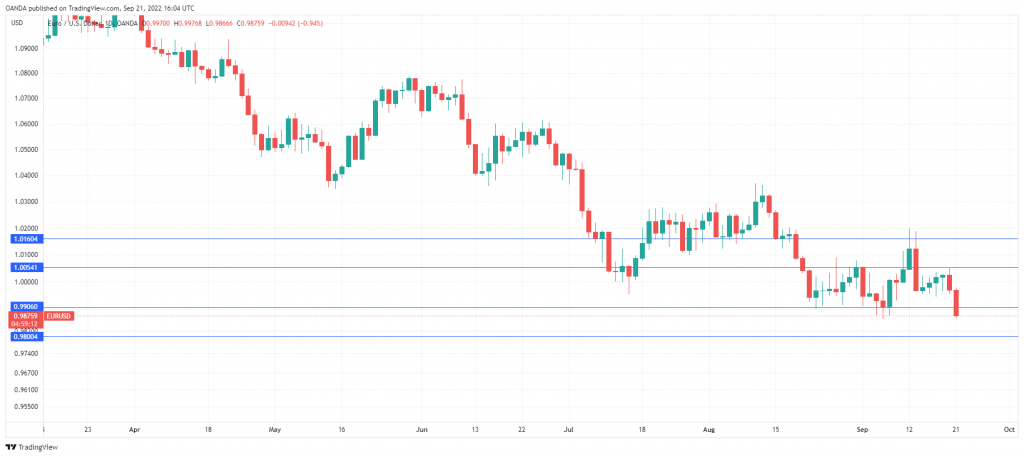 This article is for general information purposes only. It is not investment advice or a solution to buy or sell securities. Opinions are the authors; not necessarily that of OANDA Corporation or any of its affiliates, subsidiaries, officers or directors. Leveraged trading is high risk and not suitable for all. You could lose all of your deposited funds.


Originally Published Here -Source link