The euro has posted considerable gains and is back above the 0.98 level. In the North American session, is trading at 0.9828, up 0.57%.
US Housing, Manufacturing Data Decline
As the Federal Reserve continues to deliver outsized interest rate hikes, the financial markets are closely monitoring US economic data, looking for signs of a slowdown. Today's releases were softer than expected, bolstering the sentiment that the economy is losing steam. The Philly Fed Manufacturing Index came in at -8.7 in September, its fourth decline in the past five months. fell to 4.71 million in September, down from 4.78 million in August and the eighth straight decline.
The Federal Reserve meets on November 2nd and another large rate hike is expected. The Fed has pledged to keep its pedal on the gas until inflation is unmistakably on its way down, but inflation has been stubbornly persistent. The Fed's beige book, released on Wednesday, indicated that inflationary pressures are easing, a possible sign that a peak may not be far off.
In the eurozone, the final estimate for September was 9.9%, a drop lower than the initial estimate of 10.0%. Still, this marks a sharp acceleration from the August reading of 9.1%. The main driver of soaring inflation remains energy prices, which are unlikely to drop substantially anytime soon, with winter just around the corner. The ECB meets on October 27th and is expected to deliver another oversized rate hike, most likely 0.75%, at the meeting. The ECB only began tightening in July and is lagging behind most other central banks, with a benchmark rate of just 1.25%. The US/Eurozone rate differential has weighed on EUR/USD, which has plunged about 8% since June 1st. With the Fed remaining aggressive and no end in sight for the war in Ukraine, the outlook for the euro is gloomy.
EUR/USD Technical
EUR/USD is testing resistance at 0.9814. Next, there is resistance at 0.9900
There is support at 0.9723 and 0.9637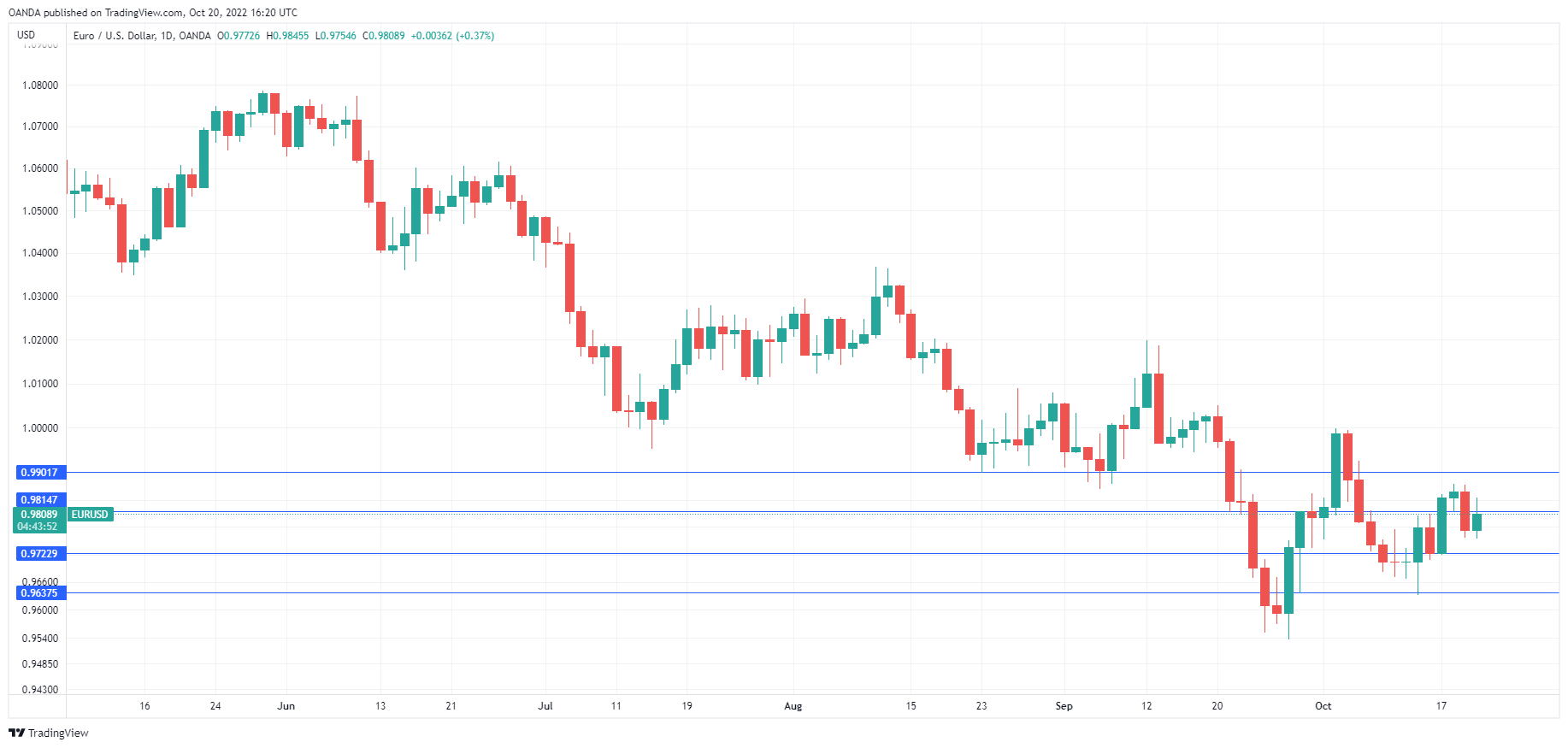 Originally Published Here -Source link