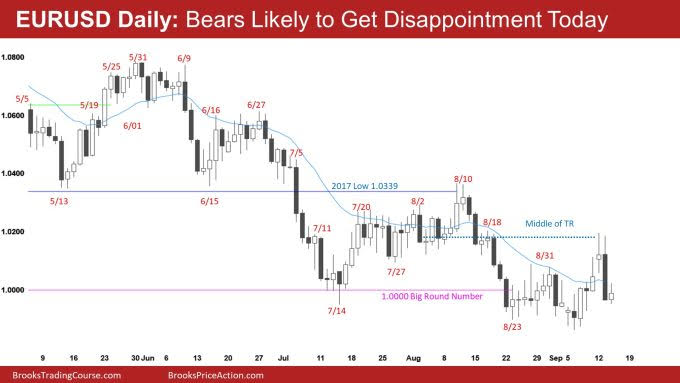 – bears got a big bear breakout bar closing on its low yesterday. However, it is closing back at the 1.000 big round and the bottom of a likely trading range.
– While the bear breakout is big, it is forcing traders to sell at the bottom of the trading range. And while there will likely be a second leg down, more traders may buy the close of the bar for at least a scalp up.
– Traders will pay close attention to the follow-through today. If today is another big bear trend bar like yesterday, the market will be always in long, and the probability will favor lower prices.
– The reality is that today will probably disappoint the bears and be a bull close or weak bear bars making traders question if selling down here is a bad idea.
– The market is between the 1.0200 round number and the 1.000 big round number and will probably go sideways between those two prices for at least a couple of days.


Originally Published Here -Source link