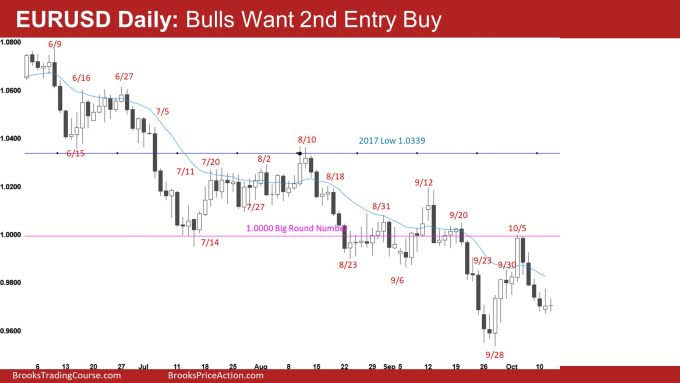 – is trying to form a second entry buy signal bar today for the higher low major trend reversal.
– The bears have a five-bar bear micro channel, and the first reversal up was likely to fail. Yesterday ended the micro channel, and the market went up outside.
– If today is a bull inside bar, that would be a more credible second entry buy setup on the daily chart.
– The bears will see any rally as a pullback from the selloff to Oct. 10.
– While the bears have been strong, the context is starting to favor the bulls. The context favors the bulls because the daily chart has been in a bear channel for over a year, and they probably will begin to select a rally and form a trading range.
– The rally up to Oct. 4 was strong and likely to be followed by a second leg up.
– Also, Oct. 4 was a credible buy-the-close bar and bears never had the chance to exit break-even back at the Oct. 4 close once they were disappointed with Oct. 5. This increases the odds that the market will return to the Oct. 4 close soon.
– Overall, the bears hope this current selloff is a double top with Sept. 20. However, it is more likely that the market will go sideways to up over the next couple of weeks.


Originally Published Here -Source link