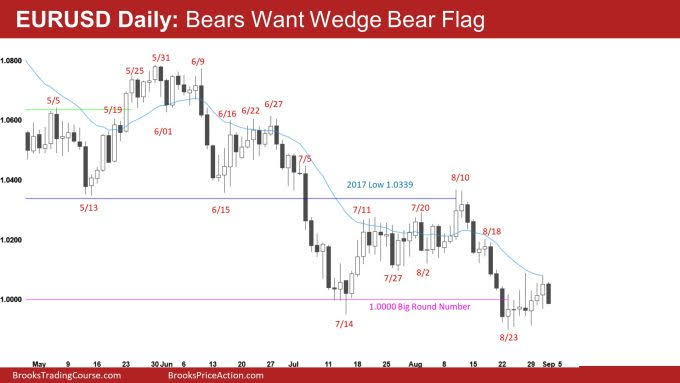 – The bears had a Low 2 short on Aug. 30, but the signal bar was terrible, and the market went outside up the following day (yesterday). Today, bears are trying to get a bear inside the bar, which would create a wedge bear flag.
– The problem with the wedge bear flag is that assuming today closes near its low, this would be the first bar In the past seven bars that closed near its low with a big body, which is a sign of buying pressure. This increases the odds of more trading range price action and not bear trend price action.
– More likely, there will be buyers below, and the market will continue sideways to up.
– The market is in an overall trading range from the past few months and finding support at the 1.000 big round number. This increases the odds of a rally and tests back to the middle of the July-August trading range at a minimum.
– While the bulls have done an excellent job of developing buying pressure, they need to start getting consecutive strong breakout bars, or the market will continue sideways.


Originally Published Here -Source link