is considerably lower today, trading at 0.6273, down 0.57%.
Employment Data Expected To Remain Strong
Australia releases employment data on Thursday, with the markets expecting that the report will show the labour market remains robust. The economy is forecast to have created 25,000 jobs in September, following the 35,000 gain in August. Unemployment is expected to remain at 3.5%. The strong labour market has enabled the RBA to continue its sharp rate-tightening cycle, with the cash rate currently at 2.60%. The central bank plans to continue raising rates, as the focus is on curbing inflation, which came in at 6.8% in August. The October inflation report will be especially significant, as it will be released just days before the RBA meeting on Nov. 1 (in addition to the quarterly CPI report, Australia has started releasing a monthly inflation release, but it covers only 70% of goods and services).
Higher rates will curb inflation eventually, but the cost could be an economic recession. Already, households are straining their budgets as inflation remains red-hot and higher interest rates are increasing borrowing repayments. This will likely dampen consumer spending, a key driver of economic growth.
The Australian dollar has hit hard times. Since Aug. 1, AUD/USD has plunged 550 points, as risk sentiment has taken a beating and the Federal Reserve's aggressive tightening has boosted the China's economy has been struggling and the escalation of the Ukraine conflict, with no end in sight, has sapped the appetite for risk-related currencies like the Australian dollar. With the Fed likely to deliver more oversize rate hikes and China and Ukraine likely to remain hotspots, the outlook does not look bright for the Aussie.
AUD/USD Technical
AUD/USD faces resistance at 0.6331 and 0.6460
0.6250 is under pressure in support. Below, there is support at 0.6121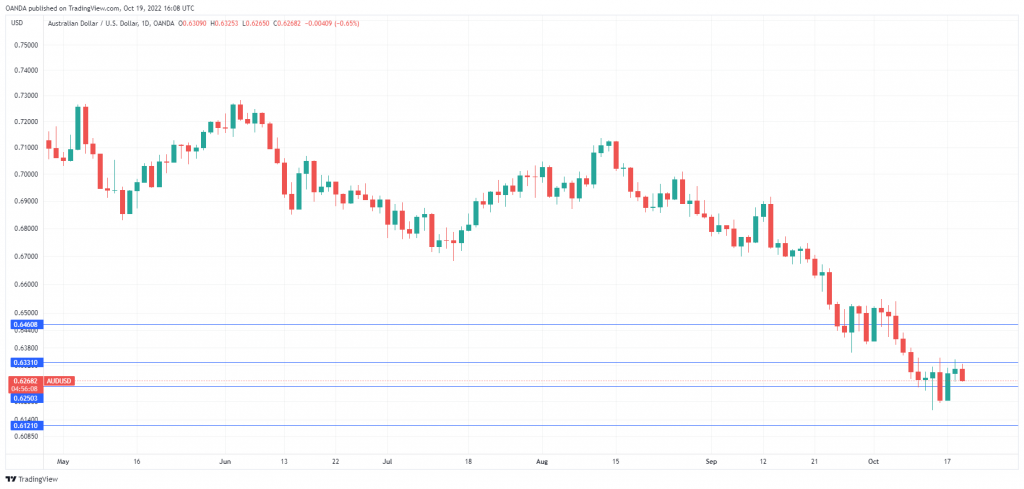 This article is for general information purposes only. It is not investment advice or a solution to buy or sell securities. Opinions are the authors; not necessarily that of OANDA Corporation or any of its affiliates, subsidiaries, officers or directors. Leveraged trading is high risk and not suitable for all. You could lose all of your deposited funds.


Originally Published Here -Source link